Geology Prof. Honored By Environmental Club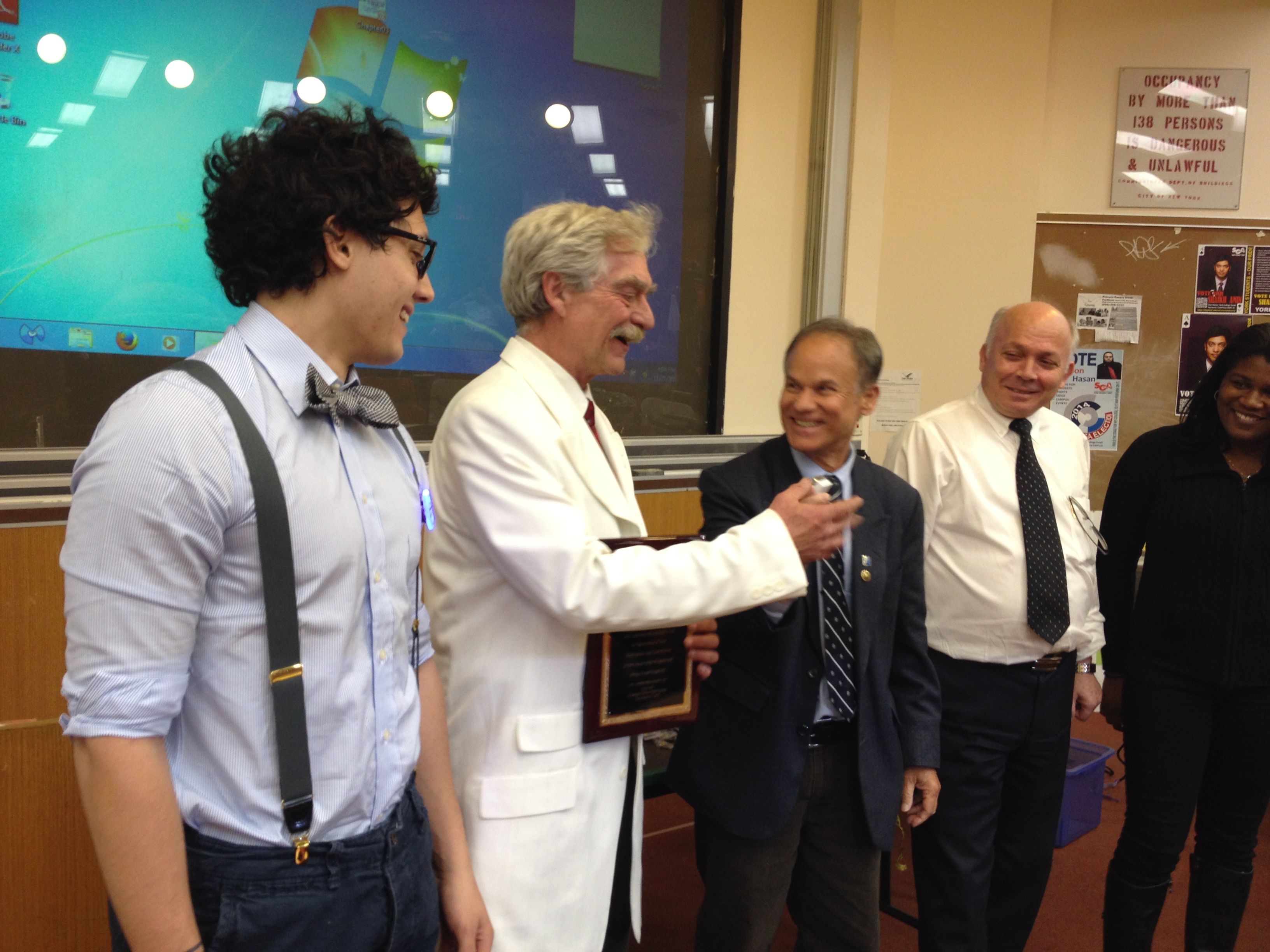 Asteroids, rocks and glaciers may be one aspect of a geology lesson, but the York College's Geology department and club continue to amplify and promote its program every semester, attracting more students into their platform through the leadership and management of expert professors.
On Nov.21, the Geology department held a panel discussion during which adjunct professor Robert Alvey was commemorated for his 40 years of being a geologist while informing his audience about the science of geology and its relationship to modern needs. The veteran geologist has been a York College professor for about 10 years and his scholarship has ranged from studying volcanoes in Hawaii to the outskirts of Saudi Arabia and other parts of the Middle Eastern region.
"Being able to talk to people and being able to communicate in terms they can understand and keeping it simple," is the most captivating aspect of the field, Alvey said.
"I went to an engineering school, the government approved me as a geotechnical engineer, but I realized it was a little more than just designing and drawing things and so I took the parallel pathway," Alvey said. "You can find what you want and what you like to do. It is fascinating to see what is in this world and that's why I like being a geologist."
Since 1997 Alvey has been with the Environmental Protection Agency (EPA) as a geologist in the technical support section, where he is responsible for reviewing and guiding project managers on contamination issues of superfund projects, a federal program that funds the cleanup of contaminated properties.
In 2011, Alvey received a personal thank you letter from New York Sen. Charles Schumer, thanking him for his service.
"I truly thank you for the years of service you have dedicated to the state of New York," the letter read. "On behalf of all New Yorkers, I thank you for your hard work and dedication."
Alvey has been the primary facilitator to address environmental health concerns and protect a threatened drinking-water supply potentially affecting 250,000 Long Island residents.
Dr. Nazrul Khandaker who is a distinguished York College Geology coordinator and professor is also Alvey's colleague. Khandaker said that Alvey is a man of numerous aptitudes and he gives geology a more appealing and engaging stance.
"Alvey, he wears multiple hats," said Khandaker. "He's just not a geologist he's an established actor and at the same time he runs the Bird Sanctuary in Garden City which is basically his grandchild and through this, he was able to connect to the York undergraduate geology students and provide them with some kind of understanding about the nature or the habitat. So there are not too many individuals like him who is not only a geologist, also an environmentalist and a nature lover."
Alvey is the founder and president of The Garden City Bird Sanctuary, now referred to as the Tanners Pond Environmental Center, which is a local community based bird sanctuary and nature preserve as a pilot program for educational and environmental stewardship programs. The bird sanctuary has been in Alvey's care for about 20 years during which he has engaged the services of more than 10,000 volunteers from scout, school, and community groups.
It has raised well over $250,000 in funding through grant applications and private donations for re-development of a nine-acre site, including a $55,000 Wet Meadows installed through funding from a Nassau County Environmental Bond.
"He's the real deal, like one of those guys on the National Geographic channel solving real world environmental issues," said Geology major and president of the York College Geology Club Brian Velez. "As a young man pursuing a career in geology I felt drawn to Alvey's wisdom and years of field experience, but mostly the way he captured the beauty of geology. It made me think about how a beautiful scenery can now tell a story through the eyes of a geologist, how 4.6 billion years of earth history gives humanity new perspective on our place in the universe… In the simplest terms, the way geology makes a geologist feel."