When the Student Becomes the Teacher…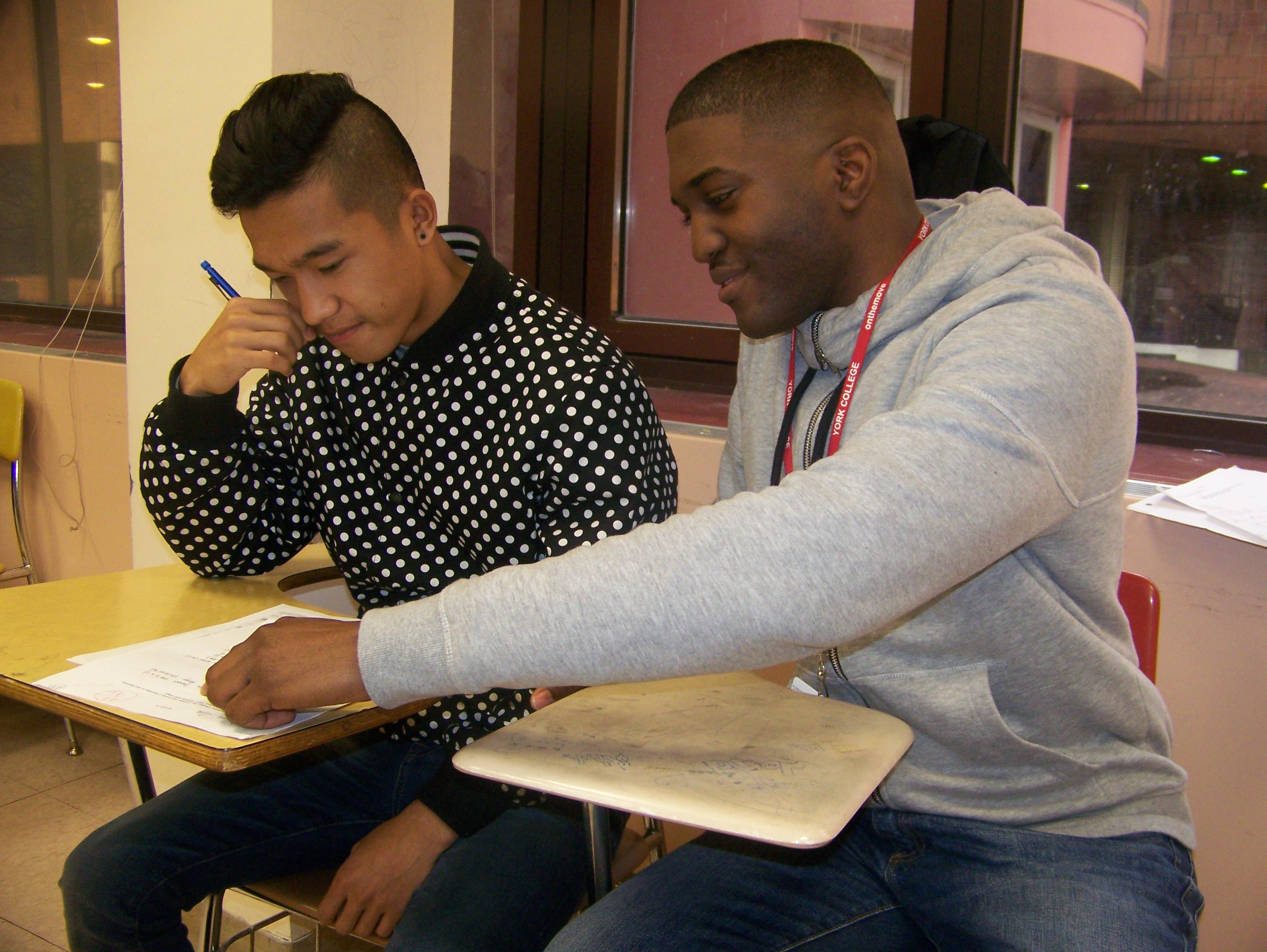 With the help of administrators in the math department at York College, a student took it upon himself to tutor and essentially teach his own class when students found it difficult to learn from a professor with an obvious language barrier.
Genesis McKinzie, a Clinical Laboratory Sciences major at York has been tutoring students from his pre-calculus math 120 class during this semester, after complaining that the professor could barely communicate making it difficult to understand course material.
"I had compassion and I decided they needed help," said McKinzie. "They needed someone to do it so I just did it."
As a last minute decision, officials in the math department hired an adjunct professor for this semester after a number of professors including both adjuncts and full-time professors left York for different reasons, according to an administrative official.
Including the loss of Taen-Yu Dai a former professor who died shortly after his retirement, two of the department's full-time professors are out on sabbatical while another has taken a family leave. Four of the department's adjunct professors left York after receiving full-time positions elsewhere, according to the official.
"The math department had a problem, a lot of people at the last minute bailed out on teaching so we had to hire somebody very quickly," said the official. "It was crunch time classes were starting and we needed a professor for the class."
The professor was hired based on his qualifications and teaches at another school. It was not until he began teaching at York that the administrators learned of the problem, according to the official.
McKinzie spoke with the official and with the help of other students, wrote a letter that was then forwarded to the Chair of the Mathematics and Computer Sciences Department Dr. Adefemi Sunmonu.
"Oh crap" was her response when McKinzie informed her of the situation said the official. She explained that Mckinzie met with Sunmonu, who agreed to his tutoring sessions with the students.
"I was informed of a student who wanted to work with a group of students from his class who were having difficulties in the class," said Sunmonu. "I had a meeting with the him and a couple other students from the class and I gave them my blessing."
With permission from Sunmonu, McKinzie was allowed to use the computer science lab in room 2E03 where he met with students before class on Tuesdays and Thursdays during the usual club hours from 12 to 2 p.m.
Aside from the work McKinzie provided them, students were graded on exams including a midterm and a final administered by the department which the professor graded. They were also graded on quizzes designed by the professor, however they were also difficult to understand, according to McKinzie.
"I attended a couple of their sessions, but he was not teaching the class," said Sunmonu. "Teaching the class would mean that the instructor was not there or incapable of doing his job."
But the students who attend the Math 120 course have argued that the instructor isn't, in fact doing his job. After sitting in on the classes, four students told a reporter that they did not believe that the professor should be teaching. Failing to answer questions or even get the correct answer to his own tests is just a few of the problems, they said.
"Looking at the quizzes you can't understand what he means," said McKinzie. "You kind of have to translate what he writes on the quiz,  it's like going to class in a third world country."
Despite complaints from other students about the professor, after observing the class Sunmonu said he found no reason to fire the professor.
"The two different times that I went there unannounced just to observe the class I didn't find anything that would make me say I have to take him out of the classroom," said Sunmonu.
Although Sunmonu said he found no reason the professor should be fired, he will not be rehired, according to the official.
"He's not getting rehired and hopefully we won't have this problem again with professors dropping out at the last minute," said the official.
While he received no payment for his tutoring services Mckenzie was acknowledged by both the students he helped and administrators in other departments.
Acting Dean of Behavioral Sciences, Donna Chirico sent McKenzie an e-mail in which she thanked him for his "dedication and service to the students of York College…The help you provide in assisting our students master precalculus is priceless."
Several of the students who attended his touring sessions credited him for his help.
"If it wasn't for him I wouldn't have passed," said Tanya Nathan, a Freshman biology major at York who also took the course.
Rosa Villafranca a Health Promotion Management major described McKinzie as a great tutor.  She said that her grades improved after tutoring sessions with him.
"On my first exam I revived a 61 without tutoring," said Villafranca. "Since then I've been getting tutored by Genesis and I'm averaging a B+ to an A-.  I honestly appreciate him and consider him to be my pre-calculus professor.  Honestly I do think Genesis should be compensated, but then again I believe he did it for good will."