YouTube Finally Hits a High With Specialized TV Shows, Creating Celebrities and Massive Fan Base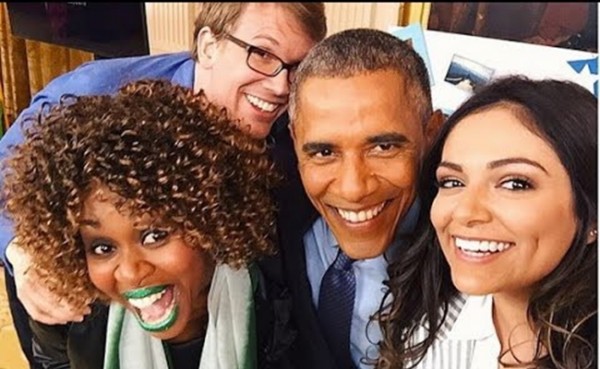 Unless you've been living under a rock you are aware of a small time website called YouTube. Launched in February 2005, just 10 years ago,  it has since become the third most visited website in the world (behind Google and Facebook).
The latest and biggest crossover into mainstream was a live Q&A with President Obama on Jan. 22. Youtubers Hank Green, Glozell and Bethany Mota sat down with the president as he spoke on issues and answered questions their subscribers would want answered. It was a huge event and Obama was able to speak directly to a younger audience that would otherwise not be interested. Youtube has become global phenomenon and it isn't stopping anytime soon, and the people reaping the biggest benefits from this are Youtubers themselves.
YouTube was created by college students Chad Hurley, Steve Chen, and Jawed Karim. Frustrated that he couldn't find a clip of Janet Jackson's Super Bowl wardrobe malfunction in 2004, Karim had the idea for a video sharing site. Its simplicity and accessibility aided in its huge success. But what was once a platform to share cat and family videos has now become an empire where everyday people have made millions and created a new branch of celebrity known as "The Youtuber."
YouTube has a large variety of channels. You can find anything from makeup tutorials, DIY videos, vlogs, video game reviews, musicians, sketch comedy, and of course cat videos. Everyday people have become internet sensations, even if only for a day, from their creative post which garners millions of views when it goes "viral." What sets them apart from the average content creator is their consistency in creativity. they build a fan base through social media and involve them in the process in order to keep subscribers and appeal to new subscribers who are looking for similar content. While it's not easy, if videos are viewed enough then eventually you can begin to make money from it.
Once Youtubers become popular enough thats when the money rolls in. Theres plenty of ways to bring in money but the two most common ways are ad revenue and sponsors.When videos get enough views ads will appear and for every click you get a small profit. Its cents to the dollars but if your videos are constantly getting hundreds of thousands of views that adds up to serious money. Companies are also paying attention, and once they learn your demographic they pay youtubers to  promote and sponsor certain products in their videos.
According to Variety "Any way you look at it, Millennials, like their parents and grandparents before them, are eagerly consuming new and different forms of entertainment. Baby Boomers had broadcast television; Gen X had cable TV; and today, there's digital media. The significant change: Internet content doesn't have to be distributed by a studio or a network." One of the people who have profited the most from this is Felix Arvid Ulf Kjellberg aka "Pewdiepie" He's a Swedish 25 year old video game commentator. He currently holds the throne for most subscribers on Youtube with over 33 million. His channel focuses on his reaction and commentary as he plays different video games. He is eccentric and funny, most of his videos feature his childish humor, yelling towards the camera and his viewers who he refers to as his "Bro Army."
Maybe the reason these YouTube personalities have become so successful and surpassed the fame of even Hollywood's brightest stars is because of their approachability. Celebrities are these well oiled machines that do red carpet appearances and interviews with rehearsed answers, while they may be just like us there's an air of superiority that makes fans feel like they don't know them. YouTube stars on the other hand usually invite you to their homes and possibly into their bedrooms where they turn the lens on themselves and  talk to the subscribers, directly into the camera answering questions and creating content for them to enjoy. It's personal and intimate in a way that people can relate to.
According to the Daily Dot "Variety commissioned a survey of 1,500 13-to-18-year-olds to assess their rankling of celebrities based on approachability, authenticity, and (what it calls) other criteria. One big takeaway from this survey—scientific or not—is that the Hollywood hype machine is losing its grip on one of its most important audience segments. Those 13-18 favor authentic, fast-twitch, Web-delivered humor as opposed to yet another Michael Douglas, Diane Keaton rom-com. Production values on many videos from the biggest YouTube stars won't be mistaken for Francis Ford Coppola, but what KSI and Higa lack in expert cinematography, they make for with personality."
This is a growing medium of entertainment and businesses and Hollywood are paying attention. Youtubers are crossing over slowly but surely. Michelle Phan, a beauty guru teamed up with L'oreal and created her own makeup line Em which is sold in most retail stores. Bethany Mota, another beauty guru has her own clothing collection for Aeropostale and was a contestant in the last season of Dancing for the Stars.
According to Variety "Live concerts and events featuring digital celebs also have taken off. DigiTour Media, an L.A. startup that produces concerts and events featuring YouTube and Vine stars, launched its first music tour in 2011. Last year, DigiTour sold 18,000 tickets to its events. This year, it's already sold 100,000, and expects to top 125,000, with events in 45 markets (including four festivals, in New York, Los Angeles, London and Toronto). In 2015, DigiTour expects attendance to reach 250,000, according to co-founder Meridith Valiando Rojas."