Men's and Women's Track Team Off to a Solid Start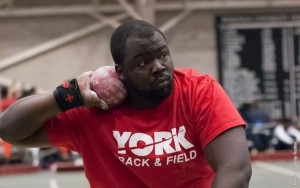 (PHOTO BY VERITY ROLLINS)
After one month of training and two events complete this season, the track teams are focused on staying in shape and injury free by February.
The indoor track season started Jan. 10 at the Fairleigh Dickinson University Knights Indoor Classic. On the men's side, sophomore Roshane Wright finished second in the 400-meter dash and long jump. Junior Jaron Williams won the triple jump and bested two Division I athletes in the event. On the women's side, Senior Shanice Brown finished fifth in the 60-meter hurdles while junior Akera Allen finished sixth in the long jump. Senior Danielle Dunn also finished fifth in the weight throw.
The team's second meet was on Jan. 17 at the LI Winter Invitational. On the men's side, Wright won both the long jump and 400-meter dash. On the women's side, Freshman Alana Johnson finished fourth in the triple jump and Brown finished sixth and tenth in the 60-meter hurdles and 60 meter dash respectively. Captain Jesus Medina described his thoughts on the season so far and his goals for February.
"I haven't been training cause I was injured so I had to sit out a couple of months," said Medina. "I just started to train again in January so obviously I ran these two meets without training. By February I want to get my 400 [meter dash] time down somewhere between 53 and 51 range."
Medina says he doesn't focus on the start as much in the 400 meter event. The most important part of the 400 meter event is the finish as it takes the most endurance. He relies on his form as a runner, specifically on the arms and knees, along with breathing techniques. There are players on the team that have excelled well during the meets. Head Coach Mark Benjamin likes the early success his team has experienced so far.
"I got a lot of personal bests and some of my athletes did better than last semester in their times and throws," said Benjamin. "We have a few people who already made it to the Eastern Conference Athletic Championship. One young man made it all the way to the NCAA. The training is coming along, my numbers are coming up and we are looking good."
There have been many surprises in the season with players making improvements in their events.
"Roshane Wright has been our standout long jumper and 400 meter runner," said Benjamin. "Another big surprise is Alana Johnson. She came out and did the triple jump with very little triple jump practice. Basically just used what she knew from high school and she already made to the CUNY Championships."
Benjamin expects Johnson to win the triple jump this year and recommends she step up in the 800 meter event. Medina also expects Johnson to do well in the season for the women's team despite it being too much for a freshmen and exceeding in her respective event..
"She can definitely be a CUNY star," said Medina. "They took a big hit losing Kemilla and Johane last year. As a freshmen it's a heavy load for her and her triple jump."
Johnson is coming off an excellent season in cross country and her coaches and teammates see it. Although both teams have done well in their respective events, Benjamin wants to improve in some weak aspects as they get closer to February.
"I need some distance runners," said Benjamin. "I need people that are going to run a mile and a half which is 3000 or a 3 mile which is 5000. The guys run the 5000 and the women run the 3000. I really don't have strong competitors in those events yet."
Both team's next meet will be on Jan. 31 at the second Wesleyan University Invitational in Middletown, CT.