York Swimming Team in High Spirits Despite Losing Record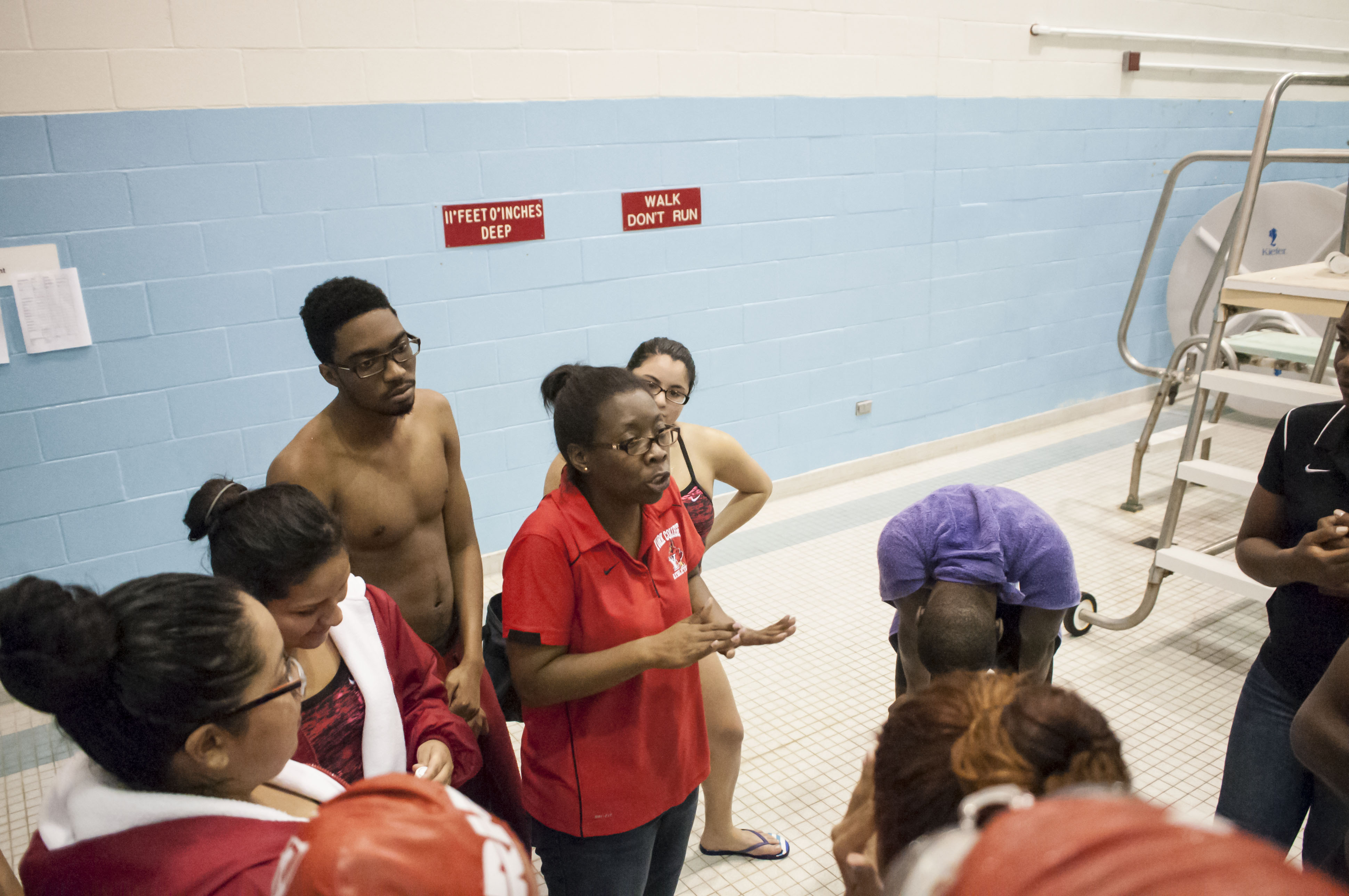 The men's and women's swimming teams haven't had a spectacular year but that isn't stopping them from staying positive as the season reaches its mid-point before Jan 8.
Coaches and swimmers are focusing on their strengths and putting in more time into practice in order to get their personal times up and ultimately help the team as a whole. Sophomore Julian Lopez describes the season thus far.
"The season is going well," said Lopez. "Its always fun to swim at meets. We just have to practice harder and that's what we plan to do. My personal goal for the season is to improve on my time and my technique."
Lopez this season has been working on his personal bests in freestyle events for the men's team. Assistant Coach Karima Tonge understands how difficult it is to balance school and sports, having gone through the experience herself and gives her swimmers advice on how to overcome that.
"Were very fortunate for all the swimmers we have," said Tonge. "They come to practice, and they're dedicated. Its a division three school so were not getting paid and I've told the swimmers from experience, having been a student athlete here at York myself how to go about being a student athlete. Its all about multi tasking, you have to balance being an athlete and also being a student. You just have to find a balance that works"
Freshman Mayan Charles is in her first year with the team. She is adjusting to the difficult schedule, but is excited to improve for the teams return in January and focusing on achieving personal goals.
"The season has been going pretty good," said Charles. "I'm actually still learning to manage school work and practice. There are good days and bad days but overall its been going well. Right now I'm trying to make sure I come to every possible practice. So that I can get faster by January when we return from break. That is my goal for the rest of the season, thats all I want. I'll achieve this by eating the right way all the time, thats one of my biggest hindrances. "
Swimming is ultimately an individual sport. The coaches understand that and are focusing on strengthening each individual swimmer so the team as a whole can become stronger. Upon their return in January the coaching staff hopes that the small break in classes will allow the students to put more time in practice.
"Based on their ability we modify the practices," said Tonge. "Especially with swimming we give the swimmers sets we know they're capable of doing but we are going to make it so that each practice the swimmers push themselves, its all about needing that extra push. Us coaches use our discretion as far as preparing our athletes for certain events."
The coaches are glad to see the effort the swimmers have been putting to get better despite what many would consider a disappointing season.
"When you swim in division three schools you're not getting a scholarship or financial compensation so if they're here its because they want to be here and thats all I can ask from them as a coach," said Tonge. "That they do their best, and the coaches are proud. The ultimate goal for the end of the season is just to see the athletes push themselves and improve on their times, basically its all about personal achievements"
Both teams next meet will be at home against The College of Staten Island on Jan 8.