Men's Basketball Team is York's Jewel, Most Favored by CUNYAC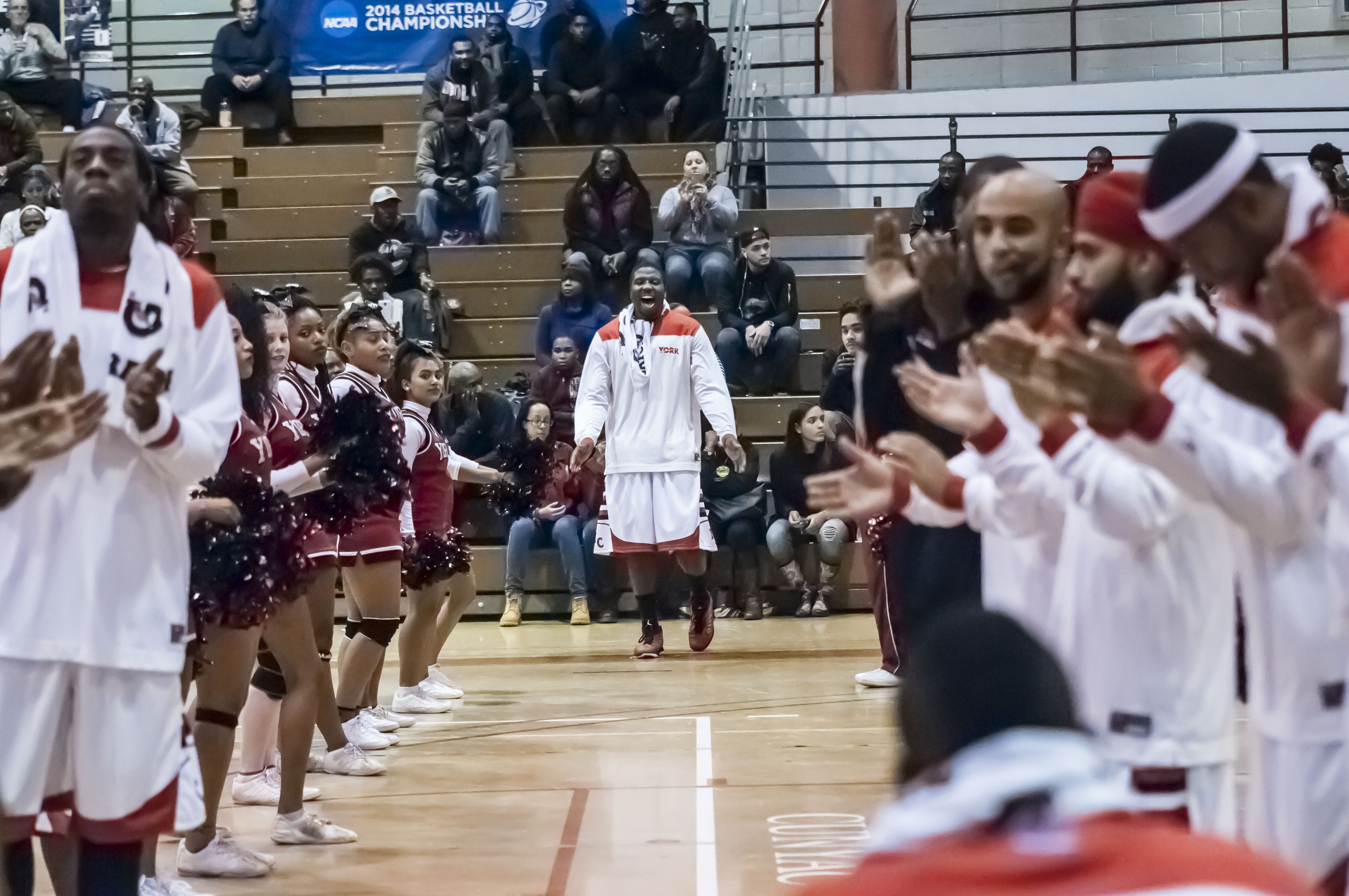 For the men's basketball team in practices, the desire to get better is palpable. Every cut, every screen, every dunk must be executed with perfection. Coach Ronald St John refuses to accept anything less than that.
Coming off a championship season and trying to incorporate 10 new players within and a father-son relationship on and off the court, the team still has the same aspirations they had last year during the NCAA championships.
With the season well underway, the Cardinals are looking strong. Under the lead of St. John, the team is arguably the deepest team he has ever coached, yet he thinks they could easily be better than where they are.
"We should be better record wise, however I think that we are in a good place," said St John. "We are playing very well. I think that we have a chance in every game we play."
When asked about his son, Omar St. John, who is also the team's starting shooting guard, the coach smiled.
"Well this is what we expected from him, he had the potential. Now he put in the work and you can see it is paying off," said St. John.
For the season, Omar is averaging 25 points, five rebounds and five assists along with two steals per game. It's safe to say that he is excelling on both offense and defense. Omar is also coming off a 46 point outburst in a win against Medgar Evers College.
The 46 points ties a school record for the most points scored in one game, which earned him the CUNYAC Player of the week honors. When Omar was asked about the honor, he was nothing but humble.
"It was definitely a blessing to know that my hard work is paying off," said Omar. "We have a good team and just can't wait to prove ourselves."
The team is extremely focused on the task of repeating as champs. With the team going 2-0 in the conference they are taking the care of business. Even newcomers are accepting the challenge such as backup shooting guard and Sophomore Ryan St John.
In his first season for the Cardinals, Ryan is averaging 10.9 coming off the bench, making him the ideal sixth man of the team. Another stand-out player that is fairly new and is already making an impact is Senior Cyril Reid. The former St. Peters forward is already averaging 11 points and five rebounds and seems to be getting more and more comfortable.
"I like where we at, coach is helping me everyday and I'm getting more and more comfortable," said Reid. "Everyone needs to come watch us play, watch the show."
It looks like this team might be well on its way to eclipse last year's 22-8 record, with a deeper team and more balanced offense, they would appear to be the favorites to win the CUNYAC Championship.
"We don't wanna have players try to execute fancy plays and can't do the basics," said St John with a stern tone in his voice. "If your going to dunk the ball dunk it, don't get caught up in the extra"
Working hard is the motto on this team and St John wants to install that within all his players. The basketball perfectionists all emphasis practicing and working hard so when crunch time arrives they will be ready. In the first game of the season in which they lost in overtime because of the last second blunder, it deflated the team completely.
"There was a blown call but the fact that we gave them an easy basket with such little time left was ridiculous," said St John. "Its my job to make sure that we never need to fall like that ever again. Even the players admitted that it was their fault for that lost."
There is no doubt that this team has some bugs to workout such as late situations and defensive intensity, but like contending teams they have more upside. Coaches and players have to play their roles and not do too much.
"I think players are now starting to figure out themselves, I just have to assure them that they all have specific roles, if you a shooter I don't need you to put the ball on the floor," said St John. "Giving the circumstances I think they take what is given but I need them to all realize not everyone can be the man, Omar is going to get hot because he has that ability but we all have responsibilities if we really want to go far."
The team's next game will be at home against SUNYIT on Dec. 16 before heading into finals week.