Big Band's Teaser Leaves Listeners Wanting More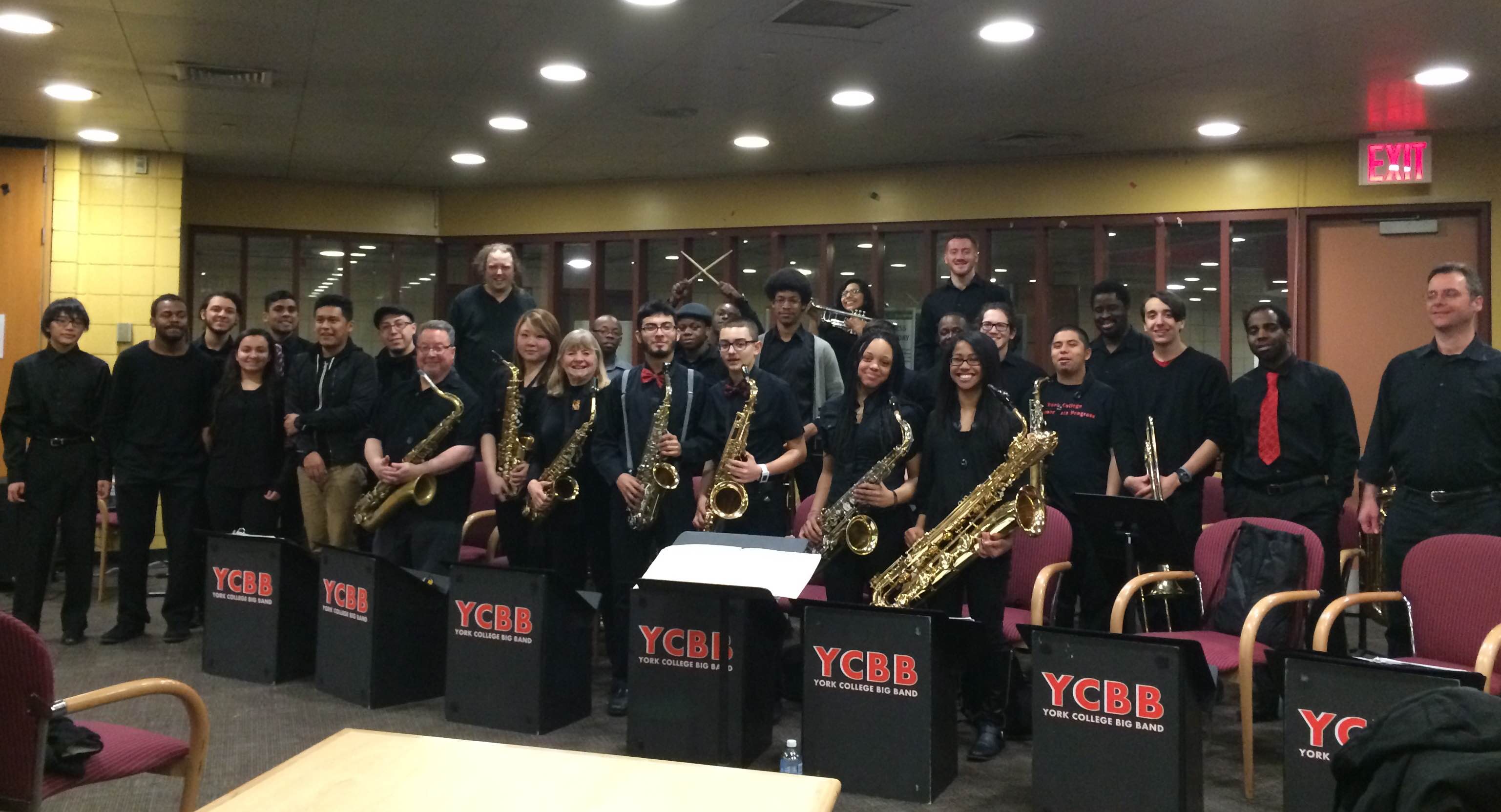 In preparation for the Spring Concert members of the York College Big Band played to a room full of faculty and students, performing a selection of songs by Carlos Santana during their Mid- Semester Teaser. The event held in the faculty dining room 2D01 offered a prelude to the upcoming Spring Concert, Viva Santana, a tribute to famous musician and songwriter, Carlos Santana.
"It's my life. It's my favorite part of the week to come here on Wednesdays," said Eial Kestelman, trombone player. He also expressed such effusiveness for their upcoming concert on May. 20 at 7 p.m. at the Performing Arts Center  where he will also be playing. In this performance, he performed quite a few solos while many of his friends cheered for him.
Jonathan Rodriguez, a guitarist on the band had this to say about his experience. "I don't normally listen to this type of music." He said, "But being in this band helped me open up to new music." Since Rodriguez has been in the band he noticed "We usually do to two gigs  each year. One in the middle of the semester and one at the ending of the year." He also shared that York College's faculty and students will be expecting him in the performance at the end of the year.
Rachael Perez, the Pianist Captain, speaks about her experience and her favorite part of being the band. "There's so many things. Tom is great. The people are great. It's just a very free environment." She said "I really feel free, like I can make music. I can mess up and it's okay. It's just fun. I will be playing in every other event that York offers as well as the performance at the end of the year."
Tom Zlabinger, conductor of the band, talks about his favorite part of being in the band "When the band comes together. When everything comes all sticky and gooey."
As the performance took place, Tom his students gelled together and were carefree. There was a small humorous part where Eial Kestestelman and his peers were both playing the trombones. His peer tried to mimic Eial's piece and even tried to play it better. However, Eial would not have it. He then played a difficult piece and his band member retaliated with a short note as he admitted defeated. It was a fun Trombone battle.
There were many solos, there was even a saxophone solo played by Samantha Williams who performed a long piece that the crowd was amazed by. The musicians seemingly worked incredibly hard for this teaser and if students here at York are looking for a break from studying for classes, watching the band perform is uplifting and pure entertainment.
York's Big Band performance at the end of the semester is a must see. Theres no doubt that the upcoming concert will be blast for students , the band is sure to blow audiences away. Zlabinger said it best. "Music is much better when it's live."