Is York Prepared for Racial Protests?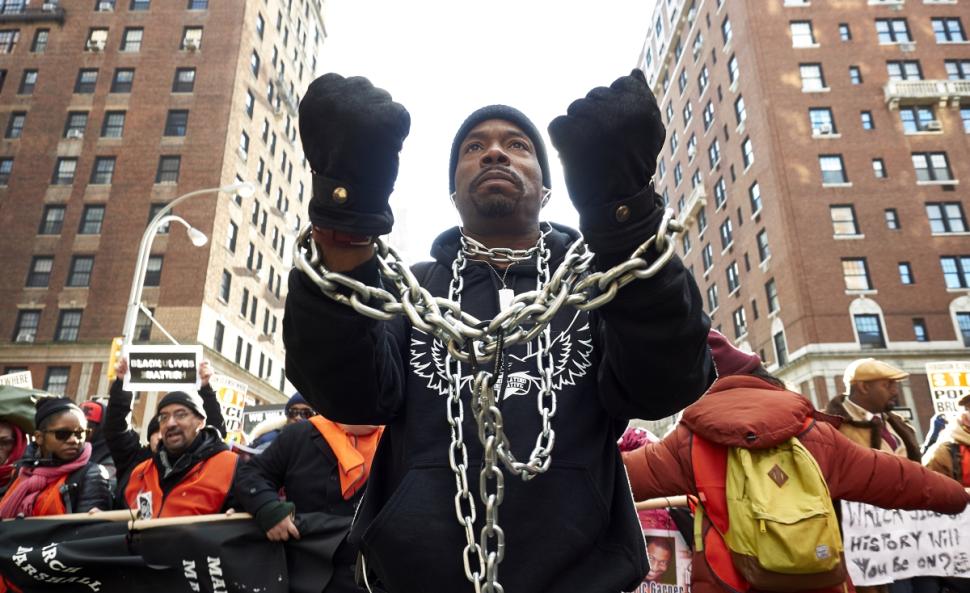 As protests continue in cities across the nation in reaction to the police killings of Michael Brown and Eric Garner, a number of schools are closing or pushing back tests as a knee-jerk response to student demands.
New York City officials have discussed efforts to retrain police officers following the deaths of two black men caused by white policemen, but the struggle of race relations with the police have extended to street protests.
A Staten Island grand jury decided on Dec. 3 not to indict NYPD officer Daniel Pantaleo in the chokehold death of  local resident, Eric Garner. In July, officers attempted to arrest Garner on Staten Island for the alleged sale of loose untaxed cigarettes. Video of the arrest recorded by an onlooker showed Pantaleo placing Garner in what appeared to be a chokehold and Garner could be heard telling officers repeatedly "I can't breathe."
The decision came days after a grand jury in Ferguson, Missouri decided not to indict Darren Wilson, a white former police officer who killed Michael Brown, an unarmed black teenager. Wilson claimed he fired several shots at Brown including a fatal shot to the head after Brown turned and charged toward him following a brief chase, according to a police report by the St. Louis Police Department. Prior to the shooting Wilson claimed Brown assaulted him after he stopped him and a friend in connection with a reported robbery at a local market, according to the report.
"I do not think that the verdict in Ferguson will affect New York," Alicia A. Reyes, an 18-year-old Occupational Therapy major said, "We support [Ferguson], but we should try to be understanding of the government's decision. They know what's best for the case and our country."
When asked how York has prepared for the grand jury's decision, Sergeant Kevin Henry, of York's Public Safety department said, "[We] are sworn to silence on that subject."
"I do not think York is prepared for [the decision]," said Djenie Bazile, a 19-year-old Health Science major. "I have not heard students talking about taking action, so I don't think (York's Public Safety) has anything to worry about, considering the students and having to control them."
Several schools in Missouri were closed and suspended evening activities in fear for their students, teachers, and staff.
According to the School District of Clayton, they canceled all after-school and evening activities, in anticipation of the Grand Jury's decision. All schools were reopened on Dec. 1, along with major offices in the city of Ferguson.
Columbia University and Harvard law schools have both talked about pushing back their finals because the decisions have deeply affected their students.
York College and CUNY, though, have made no formal announcements about closing or postponing finals.
"[Protests] may possibly happen, but because we're around the time of year that everyone is most busy, and cheerful, chances are it will not happen," Reyes said.
But the protests have proven to millennial students, who have grown up in a more color-blind society, that racial issues are still prevalent in minority cultures.
"I think that racial issues are clearly evident today, and this case just goes to prove just how much," Bazile said. "I promise you if it was the other way around, a black cop would have been prosecuted," said Bazile. "A 17-year-old is going to jail for killing a dog, but a police officer is free. I did not know an animal's life is worth more than a human being's."
Bazile was referring to Ivins Rosier, 17, who was sentenced in July to 23 years in prison, for shooting a retired police dog in West Palm Beach, Florida on Nov. 18, 2012, the Sun Sentinel reported.
Brown's death was followed by weeks of protests, tear gas, and multiple protesters suffering shots from rubber palettes.
"It started with Amadou [Diallo]. Sean Bell, what did he have? Then, there was the kid, [Khiel Coppin], in Bedford-Stuyvesant on Gates. Trayvon, and most recently, the 12-year-old [Tamir Rice] with the BB gun. Why didn't [Wilson] get charged? I see a pattern," Reyes said.
"At the same time, us blacks, have to respect each other, before we can expect the white man to give us justice," said Bazile. "We should not wait for justice from anyone, it should be a natural right."
"The [grand jury] spoke. There is nothing we can do, but pray," said Reyes, the Occupational Therapy Major.