Teachers Taught at York Get Failing Grades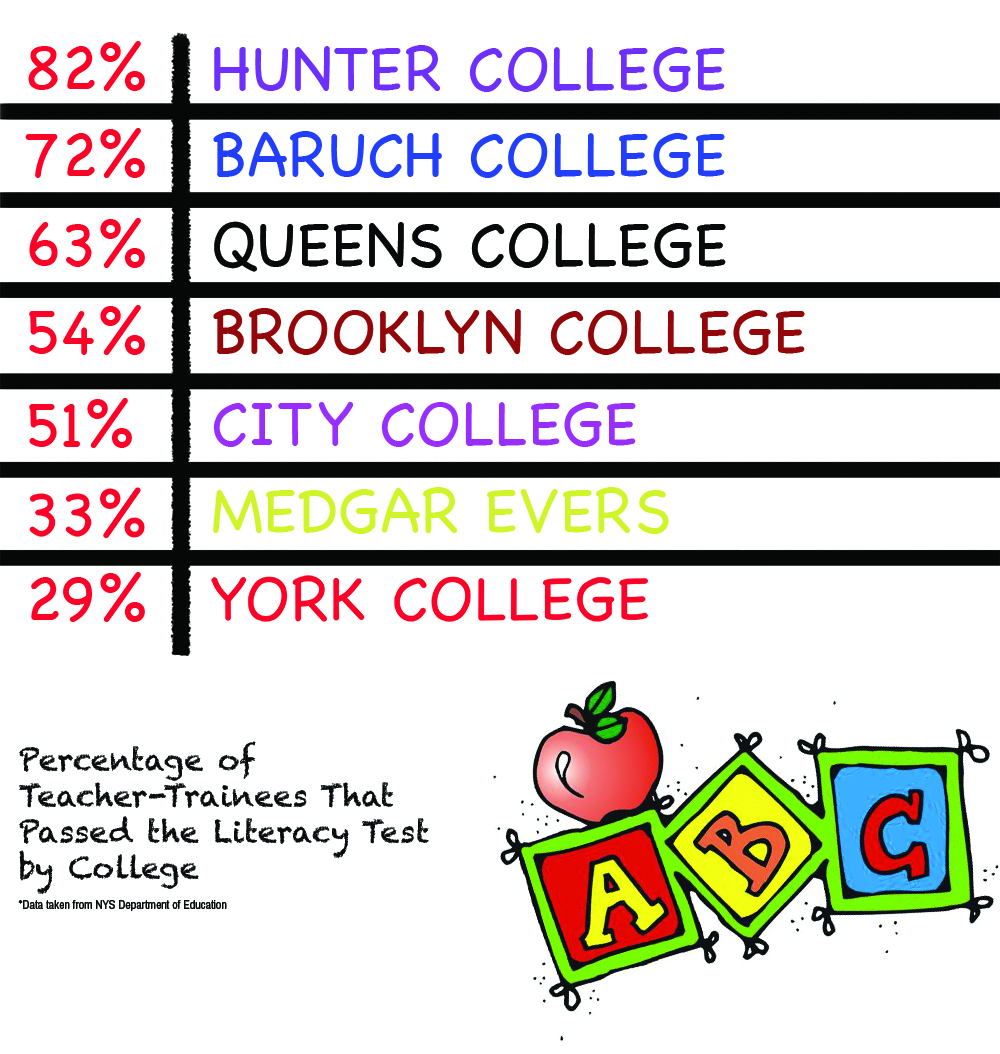 Lowest literacy grades in all of CUNY have admin and staff rushing to fix the numbers.
York College fared the worst of all CUNY colleges, and second to worst in the state for literate would-be teachers, with only 29 percent passing the State's literacy test, according to data released by the Department of Education.
In 2012, the Board of Regents began requiring teacher certification on four different levels including an academic literacy skills test (ALS) that would gauge prospective teachers' understanding of English and problem solving.
"The performance expectations for New York's next generation of teachers and school leaders will reflect the new, higher college- and career-readiness standards for students," wrote John L. D'Gati, deputy commissioner with the state's Higher Education Committee when the new standards were first announced.
This past June, 68 would-be teachers from York took the ALS and only 29 percent  passed. Of the 111 teachers who took a content-specialty test (CST), which demonstrates their ability to understand the subject they are teaching, only 59 percent passed, the lowest being in Physical Education, where less than half did not understand their subject fully, according to data released from the state.
Medgar Evars came in two spots above York, with 33 percent of their Teacher Education students passing the ALS test.
"The game has changed," said Dana Fusco, chair of Teacher Education at York. "We have trained poets and then asked them to play in the Superbowl."
The test, Fusco said, is practically rigged against students. With almost no guidelines given to staff before the test was administered and the increased complexity of the exam which involves in-depth reading comprehension skills, students simply ran out of time, she said.
"This 'scientific' literacy style is new for many of our students who are were schooled in urban systems that focused on reading and making text connection to self," Fusco said. "The reading passages themselves have little connection to the culturally and linguistically diverse students whom we serve. Because the passages are long, attention and interest in reading may be part of the issue."
Viewed as a borough-wide competition, York College's prospective teachers fared poorly compared to neighboring colleges such as St. John's University, with 73 percent of its students passing the ALS and 83 percent passing the CST test, or Queens College, which had 63 percent pass the ALS test and 81 percent pass the CST test.
York College only outperformed Boricua College, a college in Washington Heights that specifically serves the Hispanic community.
"We can't fix the numbers, the numbers are what they are," said York's Provost, Panayiotis Meleties, who said that York students who take the test are at a distinct disadvantage due to the college being only undergrad versus other test takers at the graduate level.
"The college is aware, but now with the state publishing the results we are going to refocus our energies and the department is already in planning to address these issues," he said.
"As the state has instituted this new exam for teacher certification, we are revising our strategy to ensure that York College's current and future teacher education students are prepared to succeed," said York College's President Marcia V. Keizs in an e-mail. "Our alumni community boasts a very large number of successful teachers throughout the New York City Public School system. Many have gone on to receive degrees up to the doctoral level and we intend to continue graduating quality teachers who make a difference in the lives of our children."
Dr. Lynne Clark, dean of the School for Health and Behavioral Sciences, which heads teacher training, declined to comment on the numbers.