York's African American's Club Strides in Teaching Students, Embracing Black Culture on Campus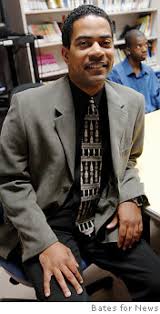 York's African American Studies Clubs is all about promoting and educating students on black culture throughout history. Thus far, they have hosted forums on police brutality and Martin Luther King Jr. The club is comprised of a cross section of different cultures that aspires to teach and promote black culture."York is one of the only two public historic, black colleges in the city," said club president, Roberto Brutus.
Prior to the start of the African American Studies Club, some students were concerned that their peers lacked a strong connection with their culture. In the spring of 2014, with the assistance of York's student activities director Dr. Jean Phelps and faculty advisor Professor Jonathan Quash, students who supported the idea were able to form the club.
Queens Councilman Leroy Comrie said he feels that it is beneficial to promote African American culture. "As young people get further removed from the civil rights era, it is necessary to remind them of the struggle blacks went through," said Comrie.
Many of the club members believe the African American Studies Club will help instill a sense of self-consciousness about their past and why their culture should mean so much to me.
"You can't know where you're going without having history of your past," said Venosa Terreus, a junior health science major. Terreus believes that the younger black generation can be too materialistic at times and are often not grateful for what they have compared to those before them.
Freshman occupational therapy major, Olu Ewola, said it is sad that some blacks are not cognizant of the struggle African Americans went through to get them where they are today.
"A lot of teenagers and young adults only talk about getting money and being successful," Ewola said. "But they don't embrace how they got to where they are today. History is the important thing."
International student and psychology major Merny Pierre sees his participation in the club as a chance to connect and give context to his new surroundings.           "Learning about African American history can help me assimilate to the culture," Pierre said. "Coming from Haiti, I think it is important to know about black people's struggle for freedom in America in the past and even today."
Darren Narine, a freshmen, international student from Trinidad and business major at York said he agreed with Pierre. "Knowing there is an ongoing fight for freedom in America makes me want to work harder," Narine said. "On television America seems like it was always so picture perfect," he continued but it wasn't. Learning about how and why people fought for freedom makes me want to work harder."
Some of the biracial club members see the African American Studies Club as a way bridge the cultural gap of their black heritage.
"I am not in touch with my black side and I do feel like I'm missing half of myself," said freshman biology major Zaida Cseke. "I know all the aspects of my Hungarian culture but only know the basics of black history like Martin Luther King."
She hopes the club will be crucial in her learning more about herself. Cseke also believes the club will teach blacks to not be complacent with subservient roles in society.
"I think many blacks use degrading terms to refer to themselves because they don't know the historical, derogatory meanings behind them," Cseke said
History major Galina Peterson, 20, said knows more of her white Eastern European history than her black side.
"Even though I'm aware of black successes over the years, I think if I knew the history more in depth, I would feel that more beautiful and embrace my black side just that much more."
As of fall 2013, nearly 46 percent of the students enrolled at York are black according to the CUNY Office of Institutional Research and Assessment. York's hispanic population is at nearly 20 percent, 6th highest in the CUNY system. York has the highest population of black students in all of CUNY.
The African American Studies Club will be having several events throughout the semester. For Black History Month, they will hold a seminar on the black family and the ancient Moors, a group of black Muslims from North Africa who taught Europeans to navigate, build ships, and trade. There will also be a banquet at the end of the month.
Everyone regardless race participates in the events, said Brutus "The club is open to all individuals who would like to know more about the African American culture." The clubs first meeting is scheduled for Feb. 1 in room 2A06.