AARC Hosts Cop-Watch Event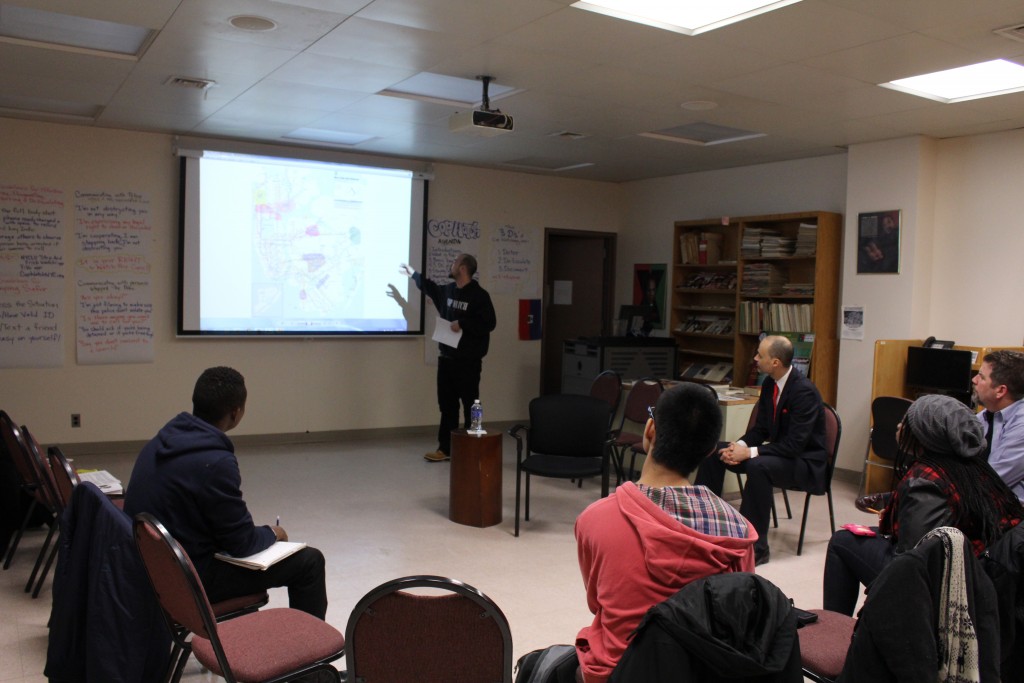 On March 5, the African American Resource Center of York College hosted a People's Justice workshop stressing the importance about the best ways to analyze and respond to law enforcement behavior in the wake of last year's grand jury decision of the Michael Brown case.
Since he was 17-years-old, Aidge Patterson has been involved in outreach programs that tackled the issues of police brutality.  Today, he works as a social worker and Cop-Watch Coordinator.
"I had a friend who disappeared from school for six months, when he finally got back he said that 'I was in the hospital; my leg broke because a police officer beat the crap out of me,'" said Aidge Patterson 34, a Coordinator for the People's Justice Cop-Watch Alliance.  "Things like that happened that made me feel the way I did about [the] police in our neighborhoods."
During the Workshop, Patterson spoke briefly on the gentrification going on in New York.  Neighborhoods like Harlem, Washington Heights, South Bronx, Jamaica Queens, and much more are slowly becoming gentrified. Big budget businesses are being built in these communities, but more importantly a more amped up police presence is present in these areas. Patterson stressed that as the rent continues to rise in these areas, citizens are being pushed into other locations with less protection from the police.
Michael Namphy, an English professor at York College helped coordinate the AARS event by reaching out to Patterson to be the Guest Speaker.  Throughout his life Namphy has known many close friends, relatives, as well as himself to be criminally profiled by the police. He stressed that it is important to be updated on your rights when dealing with the police.
Some of the other lessons in the workshop were what to say in situations when an officer confronts you. "The most important thing that I learned today is what to do when cop-watching, since it is important to know what to do when filming police activity," said Jon Sarmiento, 21, a York College History major.
A good example of filming police activity was the shooting of Oscar Grant whose case became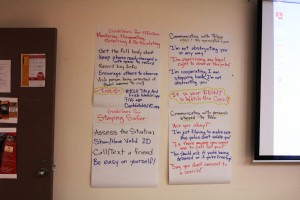 a movie directed by Ryan Coogler, titled Fruitvale Station. It was because of multiple local bystanders recording videos of Grant being shot, that police officer Johannes Mehserle was charged with manslaughter.
"I think cop-watch should be promoted because it's going to reduce police violence and misconduct," said Badmus Adekunle, 25, a York College English major.  "I had a personal experience with the NYC undercover cops sometime in November on Rutland Road. I was cruising town with friends when we were pulled over by the cops, ignorantly I tried reaching for my ID and I almost got killed. The cops said, 'I almost killed you.'"
The People's Justice Association will host their next Cop-Watch training program on Saturday March 14 from 2-4 p.m. at 108-59 Roosevelt Ave. in Queens.
"My most rewarding experiences have probably been when people that are from the community end up joining our cop-watch teams," said Patterson.  "When people decide that they want to stand up and do something because they saw us out there doing it, that's been really rewarding, really inspiring."