Alum Credits York Faculty for Personal Success, Continued Work in the Performing Arts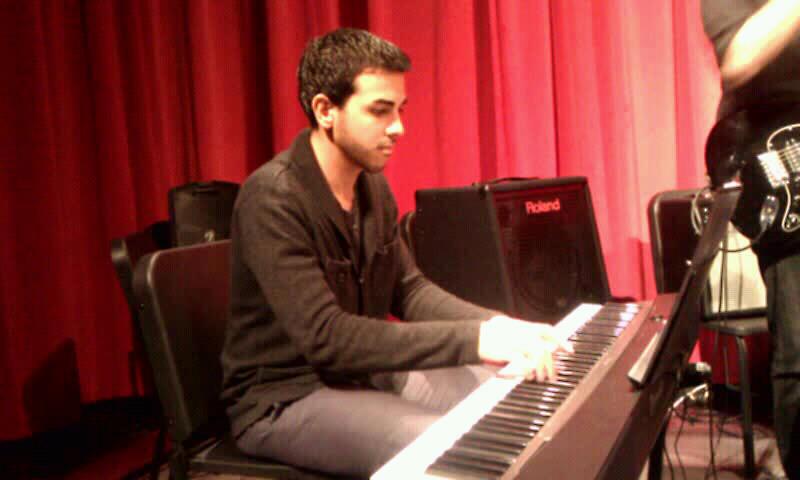 "I just kept doing it because I loved it," said 24-year-old Angel Rodriguez. "I was relatively good at it and I somehow ended up with a degree in music."
Rodriguez is a talented musician and a 2014 York College graduate who plays the guitar and piano, and is pursuing a career in music. He most recently performed at York's Student and Alumni piano recital in November of last year.
"I saw a lot of familiar faces that I missed. I would like to perform more often because a few of my college friends are in bands and I've played with them in the past," said Rodriguez.
Rodriguez's first instrument was the guitar, which he started playing at the age of 17. But he quickly gravitated toward the piano when he began attending York in 2010, which he has played for the last 6 years.
"I still play guitar, It's my first love," said Rodriguez. "My intention wasn't to  choose between piano or guitar, but I was intrigued. There weren't any guitar instructors at York, but most importantly, professor Adams encouraged me to continue playing piano, and so I did. Rodriguez said he owes the reason he started playing the piano and his great love and passion for music to performing and fine arts adjunct Professor Mark Adams.
Professor Mark Adams teaches music theory, piano techniques, keyboard harmony, jazz techniques and improvisation. Adams also has an extensive musical career, working and performing with jazz greats the likes of Roy Ayers, Ronnie Laws, Dave Valentine and American R&B, neo-soul songstress and musician Erykah Badu.
"I do remember Angel, he is one of my favorite and hardest working students that I have ever had," said Adams.  He described Rodriguez as a great student and said his ability to listen and ask questions was the thing he liked most about him.
"He is such an animated and passionate professor," said Rodriguez. "He lit a fire in me that I never knew I had and became my mentor. I still speak to him on a regular basis as I'm always in need of advice. If any person is serious about music then he is the guy to speak to and learn from."
Adams agreed with Rodriguez 's sentiments that he is both animated and passionate.
"Music should always be fun," Adams said. "But you have to get to a certain skill level in order to really enjoy playing music and having fun. I feel proud to have had the chance to watch Angel get to that skill set."
Rodriguez is now a full time music instructor at the Excellence Boys Charter School of Bedford Stuyvesant, teaching kindergarten through third graders.
"The most valuable lesson that I hope to have taught my students is to 'be yourself.'" Rodriguez said. "Everyone has a unique sound and it's up to us to have find it."
As added advice Rodriguez said Adams once told him "when you're up there playing, no one knows how long you've been playing for. The only thing they are going to do is feel your music, and that can only come from you and no one else."
In the very beginning of his piano class Adams said he realized how Angel had a 'natural feel' for piano.
"He worked very hard to get as good as he is. He always responded by going to the next level musically. He is so good now, that he has fun playing and performing. I believe that he is a very good and effective teacher as well."
Rodriguez's musical influences include Dominican singer-songwriter Juan Luis Guerra, American orchestral jazz composer Duke Ellington and Jamaican reggae singer-songwriter and guitarist, Bob Marley.
The young pianist described his particular sound or genre of music as traditional jazz infused with pop.
Adebayo Fayemi, 21, a senior music major at York is a guitarist and close friend of Rodriguez. The two met during Fayemi's second semester at York in Adams' Ear Training course.
"I actually had a hard time in that class." Fayemi said. "Luckily Angel broke things down to a science for me and I ended up passing the class. It only makes sense that he's teaching music now. Angel is a cool guy, he's humble and always striving to get better."
Another friend and former classmate, music major Steven Morris, 21 described Rodriguez as a "great person inside and out."
"Angel has definitely grown in his musical capabilities," Morris said. "It was an honor to be his classmate and a fellow band mate."
Rodriguez described himself as a sentimental player. "I like hearing the notes sing if that makes any sense," Rodriguez said. "I guess most people would describe it as pretty, but I try to evoke emotion in my playing, and it comes out as such."
Rodriguez has also experimented as a live spoken word performer. He occasionally performs at poetry and spoken word on open mic nights at local cafes. His most recent venue was the famous multicultural and multi-arts institution Nuyorican Poets Café located in the East Village. Nuyorican Poets Café is known as a spot where minority and underprivileged-upcoming artists use spoken word and music as a means of social empowerment and to put their skills on display.
Rodriguez's knack for performing in front of an audience wasn't always a something he had a knack for. According to Adams, Rodriguez used to be a nervous wreck when it came to performing live or even in front of his classmates.
"Angel would get so nervous sometimes," Adams remembered. "But as he got better and raised his skill level through practice. He would start to ownthepiano and not get nervous. I watched him raise his self esteem and confidence. This comes out through clearly his playing."
Rodriguez said he is still handling the anxiety, nervousness and mistakes that come along with performing live.
"If you aren't a bit nervous about a performance, then you don't really care about what you're playing in my opinion," said Rodriguez. " I used to make myself feel like crap when I made mistakes during performances and that accomplished nothing. I've learned to accept it and just move on."
When witnessing the melodic soulful sounds of Angel Rodriguez's piano keys you can expect to see swaying head movements similar to the legendary Stevie Wonder."I try to make sure that people feel what I'm playing, I want the music to touch their soul," said Rodriguez.