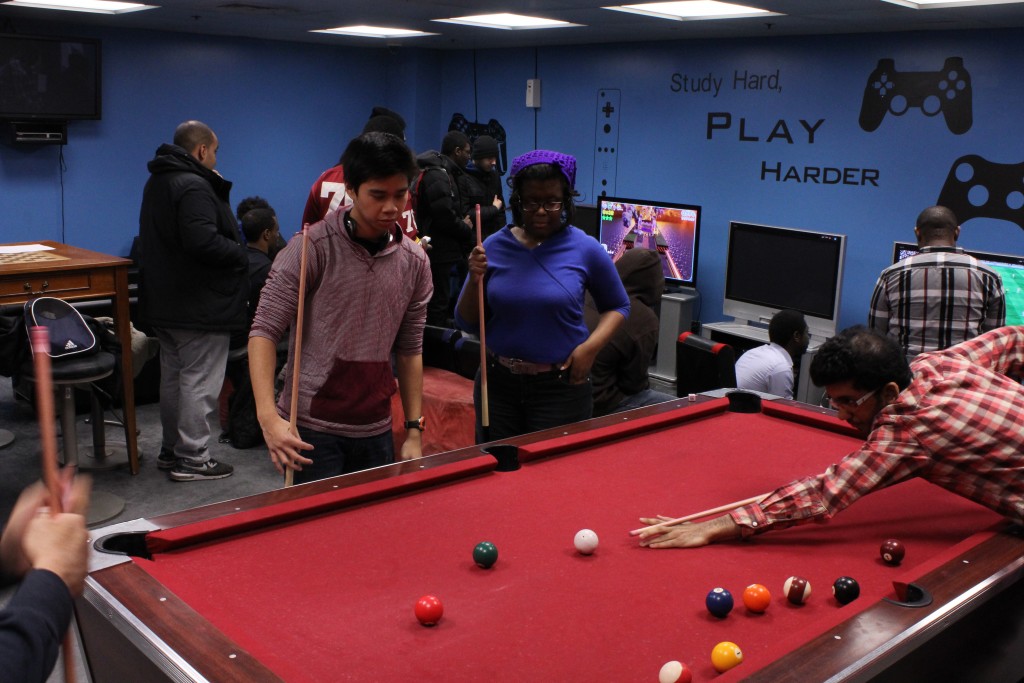 Students at York College go to the library, cafeteria, or club spaces whenever they want to kill time between classes but one place students may not consider is the game room, which might be York's best kept secret.
York's game room is located in room 1F20, on Mon. – Thurs. 10a.m. – 6 p.m. and Fri. 10:30 a.m. – 5 p.m. and is open to everyone.  On any given day you'll find the room packed with students who are on break from classes looking for something to do to un wind. You can usually find Gabriel Peguero 19, an Aviation Management major, playing super smash brothers on the Wii. He said "I have a 3 hour break so I just hang out here to have fun."
There are plenty of regulars in the gameroom but its not a club with members and its not inclusive, they welcome new visitors with open arms. "The kids here are such cool, considerate young guys and girls. I admire them because they're very mindful about who is here,"  said Keisha Omisanya,who works as a college assistant in the game room  "If anybody new comes in like a new freshman, they're very welcoming," said Omisanya. "I love them, this is a good group of kids really."
In order to reflect what students want to play, the game room created a suggestion sheet.
As a result,  the newest, most popular consoles; Playstation 4 and Wii-U game consoles were brought in. The gameroom has undergone plenty of renovations as of late, the most recent a new pool table to replace the old one which will be donated to the Salvation Army. Omisanya also ordered new furniture, which include new television stands to replace the old worn out furniture and provide more space to students who want to come by.
Part of the service-fee from every student's tuition is invested in buying new school equipment. A portion of that investment goes into the Game Room, which is why it's easy to accommodate the needs of students who request for new games.
The game rooms energy isn't just a place to kill time and un wind, its positive and relaxed atmosphere is the perfect place to form new friendships. "I've made a lot of friends in the game room, Especially some of the guys from the men's soccer team that come here to play FIFA." said Wanderly Villalobo 25, a Computer Science major at York. "They have also encouraged me to join the team next year. I think video games are a great way to meet friends, when you put a whole bunch of strangers in the same room and they play the same game they love, some of them are bound to eventually become friends."
The game room constantly host video game tournaments as well, and is open to anyone interested. Sheevaun Morlis 23, another college assistant that works in the game room said, "tournaments have been hosted since I've been a student here, the one I hosted was basically off of the games that are most popular here like Marvel vs. Capcom, Super Smash Brothers Brawl, FIFA, NBA 2K, and pool"
The tournaments for all of the games are held on the same day and snacks are provided for everyone whether it's a competitor or spectators passing by. The prizes for the winners are usually 25 dollar gift cards from Best Buy. In the next upcoming weeks more renovations will be made to the game room to accommodate more space and if a high amount of people demand it, then more tournament will also take place.
If you're looking for an alternative to the library or lunchroom to kill time in between classes, York's game room is the perfect place. The video game variety is huge, so anyone can find something they enjoy. The people are friendly and inviting, making the stay enjoyable and with its upcoming renovations its keeping up with the newest technology and looks better than ever. Yorks gameroom is this schools hidden gem.