How A Twitter Master Changed the Game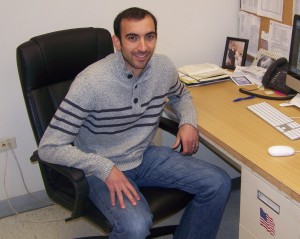 The Cardinals have the most impressive social media presence of all CUNY colleges, and you can thank one person for that…
---
After taking the position as the Sports Information Director in 2007 here at York, John Scarinci's service has been nothing short of brilliance.
Scarinci's role as the Sports Information Director and Scheduling Coordinator is to advocate the school's 17 NCAA Division III programs, as well as coaches and student-athletes who participate in sports teams.
In his seven year tenure Scarinci has improved York's media presence by redesigning York's athletic website.
"When I first arrived here there wasn't too much because there wasn't anyone in my position before," said Scarinci. He also added that there were not any good records that the school kept.
Even till this day he is still filling in holes in record books where no one kept accurate records.
"Social networking in 2007 was still growing at the time, our website was very basic and any media exposure we had was through the CUNY athletic conference itself," said Scarinci.
York's social media presence has made impressive strides coming from nothing to one of the most followed athletic programs in CUNY.
In 2004, Scarinci earned his Bachelor's degree in Communication Arts from Molloy College. He spent two years as a graduate assistant in the Sports Information and Marketing Office at Bloomsburg University in Pennsylvania. At Bloomsburg, he took on how to design media guides, game programs, post-game releases, promotions as well as game-day management.
"John has a daunting task of attempting to please everybody and sometimes it's hard and in conjunction he does a lot by himself," said Assistant Men's Basketball Coach Jessica Cherry, who added that Scarinci takes on every job assigned with impressive dedication.
"We had little to no media presence and I remember the day he was hired, he was my choice from the beginning because he knew a lot of things coming in," said Cherry.
She mentioned the intangible characteristics he brings to the table such as being sharp and on point.
"Once he was hired I knew he was going to put York on the map," said Cherry. "His passion to go above and beyond expels his work all over."
Head Men's Basketball Coach Ronald St. John added that Scarinci was welcomed immediately because of his experience.
"He was a breath of fresh air when he joined our staff," St. John said.
Notoriety for the students is key in terms of flyers and other announcements to bring attention to the program. In Scarinci's years at Molloy College he was a four-year member of the baseball team. He was not just any player on the baseball team, Scarinci ranked fifth on the Molloy's all-time list in career wins and complete games.
During his first few years at Molloy he was undecided with his major and did not know exactly what he wanted to do, but that all changed when he started taking classes in communications. While playing baseball he got to learn a little on what sports information was through a teammate and took consideration of it. After graduating from Molloy he decided to turn his newfound love into a career.
A typical day for Scarinci can take on a detailed course varying from different schedules. There are days when he's in his office and days where he's out covering games.
"Office days I'm doing a lot of preparation work involving game programs nominating student-athletes with weekly and yearly awards and updating stats online whereas when we have games I'm keeping stats then I'll write about the game afterward and put it up on the website," said Scarinci.
Since the fall of 2007, his relationship with student-athletes has been great. He mentioned one of the advantages of being so close with them gives him the incentive to cheer them on.
"Cardinal's Spotlight" is a radio program he hosts as a weekly feature on the York College radio station interviewing student-athletes and administrators.
Scarinci envisions all the best for York's Program as he and other faculty members can only add on to the success they built so far. Having a nice facility plays a role in recruiting some of the more talented players he mentioned.
"I'm really hoping our program can get to another level with the improvement of our facilities because some of the other CUNY schools have gotten upgrades," said Scarinci. "We're a little bit behind and I'm hoping that piece can get put into play so we can take off so we can be a top tier CUNY program."