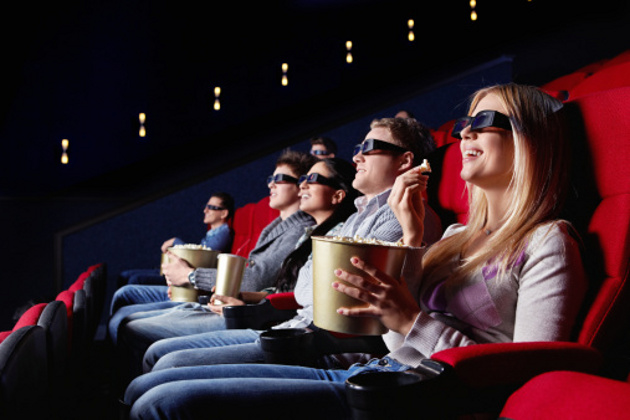 In 2014, movie ticket sales dropped to an all time low while online streaming services have hit its stride financially over the past few years. The average video consumer has been split into two groups: those who preferred the traditional movie theatre experience and weekly aired television shows and those who enjoy streaming entertainment at their leisure. In recent years it seems as though the latter group is growing significantly.
The number of moviegoers in North America was at its lowest in almost two decades based on preliminary estimates, according the Hollywood Reporter. 1.28 billion people went to the movies in 2011,  that number decreased to 1.26 billion per year by 2014. Big budget franchise films are even in the midst of releasing in theatres at the same time as online streaming services.
Meanwhile, by the end of its fourth quarter in 2010, the popular video streaming site Netflix reached more than 20 million subscribers. That number has almost tripled with more than 50 million paid users by the end of 2014, according to the company's most recent financial reports found on its website.
"I hate movie theaters, I sleep in them," said Marie Ojofeitimi, 23 an English major at York College. "I view films at home more often."
In 2013 the amount of cable television consumers dropped by a quarter million, according to Bloomberg.com. This decline in television providers is due to the rise of online streaming services like Netflix, Amazon Prime, Hulu Plus among others.
"I think that all the content being created by digital distribution services like Netflix are amazing," said Joshua Ryan Perez 23, an aspiring film director and Digital Cinema Technician at E.C. Pro Video. "I love Lilyhammer" he said, referring to one of many Netflix originals available to subscribers, "and I always say to myself how isn't this on TV."
Netflix, taking note of the shift in the way media consumers are taking in their media, recently signed a contract with the Weinstein company to release the long anticipated Crouching Tiger, Hidden Dragon: The Green Legend. The film will be directed by Woo-Ping Yuen (Drunken Master, Iron Monkey), famous here in the States as a stunt coordinator for dozens of action films like Kill Bill Vol. 2 and Kung Fu Hustle. Veteran filmmakers like Yuen along with the many upcoming directors find themselves shifting towards online services to distribute their work.
"As a director I think about it constantly," said Perez, speaking on how easy the digital platform has made it for up and coming directors. "I would love to go theatrical release. That's the dream you know? To have people across the world sitting down with a hot bucket of popcorn. But the reality is, unless I have a awesome festival run, my first major feature will probably be shopped to digital distribution."
While statistics have shown video streaming has become increasingly popular, many students here at York College still enjoy going to the theater and watching cable and believe that particular form of entertainment is going nowhere.
"Television networks provide shows that we look forward to week after week," said Ojofeitimi. "So I feel that it will never die."
Irshaad Ishmail 20, an English major at York said, he doubted movie theaters would become obsolete.  "It's the same reason why Barnes and Noble still exists and bookstores are still around," said Ishmail. "People like the experience. I enjoy staying at home and watching a movie, but actually coming out the house with friends and going to the movie theaters is a better overall experience for me."
As time continue to progress, the majority of video consumers will substitute the original film viewing theater event for a more comfortable online streaming experience which gives customers the ability to watch any movie or tv show at any place or time. However, trend like this can never be predicted. With the discovery of films in the early 1900's, people often thought that live theater would become extinct as well but that media is still very much alive today. Predicting media trends is difficult. But stream is the newest addition to the way we enjoy entertainment.