Everyone's Cycling in Queens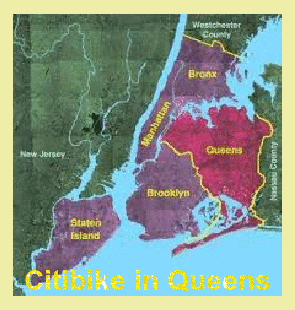 By Armand Echeverry
The first Citibike station in the borough of Queens opened to the public last month in Long Island City as part of an expansion that will add 170 docking stations and 2,000 new bicycles in Queens, Brooklyn and Manhattan by the end of this year.
And while some motorists have griped about the loss of parking spaces caused by the docking stations, most transportation advocates applaud the expansion of the program.
State Sen. Michael Gianaris, who represents Long Island City, said that he is an active advocate for the use of Citibikes throughout his western Queens district.
"I am proud to have gotten western Queens included in the CitiBike expansion plans," Gianaris wrote in a statement emailed to Pandora's Box by his communications director Liza Acevedo. "The inclusion of Long Island City was a long time coming, but I am glad it has finally arrived."  
Other neighborhoods that are part of the CitiBike expansion include Greenpoint, Williamsburg, Bedford Stuyvesant, the Upper East Side and the Upper West Side. The Citibike program is operated by Motivate, a bike sharing system that operates in the United States, Canada and Australia.  This company is based in Brooklyn, New York and they are responsible for the installment of the bikes.
"Bike share will allow people to enjoy our neighborhood in a healthy, fun way and facilitate easier travel around western Queens given the opportunity to enjoy the benefits of Citibike and look forward to its further expansion into more of our neighborhoods," added Gianaris in his statement.
Since its inception during Memorial Day 2013, there have been over 19 million trips in New York City. "With over 19 million trips, it is clear that New Yorkers love CitiBike and we are excited to see the network double in size, expanding to Queens, more of Brooklyn and Upper Manhattan," said Jay Walder, the CEO of Motivate.
"They provide leisure and a lot of people in the community like them," said Chris Blank, the manager of The Burger Garage in Long Island City. "They make people healthier, but I've also heard that some people complain about them.  I don't know why anybody would complain about them; the only complaint I have is that they don't wear helmets while riding the bikes."
Nima Lama, an employee at ENC Deli and Grocery Market in Long Island City, shares mutual feelings with Blank about the buoyant impact Citibikes have.  "They've been healthy for people and I haven't heard any complaints.  I personally like them very much and feel they're a great way for people to get healthier," said Lama.  
According to a press release issued by the Department of Transportation, Citi Corp. sponsors the Citibike program and made a commitment to subsidize the bike sharing company with $70.5 million up until 2024.  In an email, Deirdre Leahy, Public Affairs Vice President of North America Consumer Banking, says why the Corporation chose to sponsor the bicycles.  
"When CitiBike launched a year ago, we had high hopes for it.  Our goal was to do something bold that cut through the clutter, impacted people's lives and celebrated Citibanks's history of enabling progress," the statement read. "We believed sponsoring the CitiBike program would help us achieve that, so we said yes to the opportunity and made a big investment to support an innovative, sustainable transportation network in the city we have called home for more than 200 years."
Armand Echeverry, a staff reporter for Pandora's Box may be reached at Armand.Echheverry@yorkmail.cuny.edu
Valerie Victor, the Online Editor for York PB News can be reached at Valerie.victor@yorkmail.cuny.edu