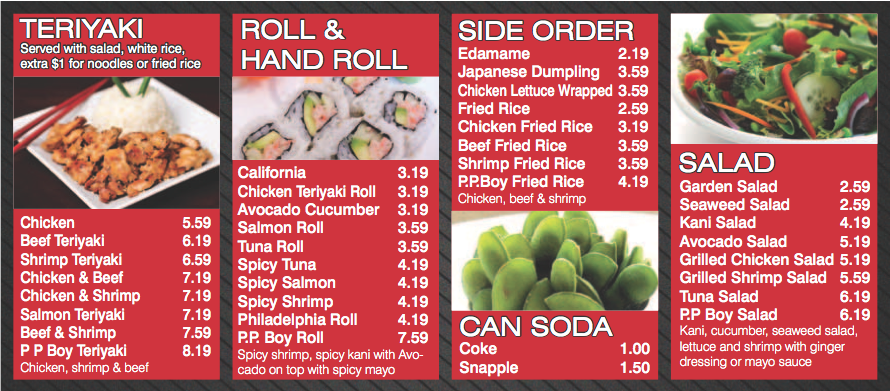 For years Jamaica Avenue has been a food hub for York College students and residents alike. But with typical fast food joints like McDonald's, Burger King, as well as pizza shops in the area, ethnic restaurants like Golden Krust and to a lesser extent Applebee's, eventually the usual spots have become routine and boring. For those looking to try somewhere new without emptying their wallets, they can check out the newly opened P.P. Boy Japan Teriyaki and Sushi.
Open since this January, P.P. Boy Japan Teriyaki and Sushi offers patrons a fast casual dining experience. The restaurant is located at 90-22 161 Street, not along the avenue's main strip with the other restaurants, but rather hidden down a side street.  Its secluded location is perfect for those who want to escape the usual hustle and bustle of Jamaica Avenue.
The interior of the restaurant is black and red with Japanese geishas and samurais painted on the walls and has indoor seating that can accommodate at least 25 people comfortably. The restaurant is a good alternative for those on a budget, but are looking for something other than a Big Mac from McDonald's or a dollar slice from the pizzeria.
The food is fresh and made to order. That of course is a trade off, as there is sometimes a small wait for your food leading making peak hours around lunch time a bit crowded.  The best time to order and take out is usually before or after the lunch time rush at 12. Also be sure to give yourself enough time to get there if you don't have a long lunch break and you plan to sit and eat.
P.P. Boy Japan has a simple, yet plentiful menu.  Their most popular and recommendable dish is the $5.59 special. Served daily, the special comes with white rice, chicken teriyaki and salad with cucumbers and tomatoes topped with a mayonnaise dressing. For an extra dollar, customers can upgrade to fried rice or noodles. Besides chicken teriyaki they also serve a variety of different teriyaki including beef, shrimp, and salmon teriyaki, and customers can also do half and half orders.  Other teriyaki dishes range from $6 to $8.
If sushi is your thing, you can also try one of the sushi rolls that P.P. Boy Japan serves.  Rolls are served in six pieces and come with wasabi and a ginger dipping sauce.  P.P. Boy offers California, Shrimp Tempura, and Spicy Tuna rolls, along with 11 other options to choose from. The selection is perfect for sushi aficionados and those trying it for the first time alike.
The restaurant does take out or sit in, but as of now does not deliver.  While there are no vegetarian teriyaki options listed on the menu, customers can order one of their previously mentioned salads. They also serve meatless side orders, such as fried rice and edamame. Portion sizes at the restaurant are decent and can easily be split and saved for later.
The newly opened P.P. Boy Japan is definitely a hidden gem on Jamaica Avenue.  The fresh food, good-sized portions, and overall quick service will not disappoint and keep customers hooked and coming back for more.
PP Boy
90-22 161st Street, Jamaica, NY 11432
(718) 523-2726
Sunday – Saturday from 11:00 a.m. to 9p.m.