Queen's Rich History of Jazz Goes Unrecognized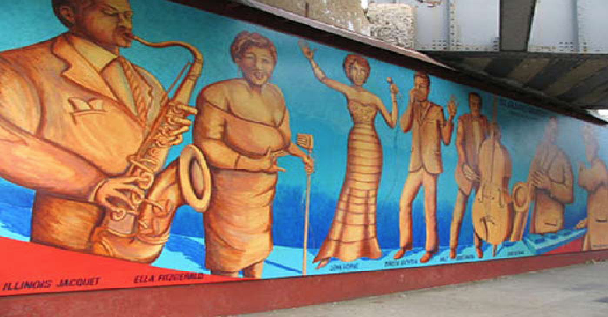 Queens has a rich history of jazz music and musicians whose memories of soulful music are enough to want to keep it around and thriving. Many musicians are taking up the fight to bring jazz out from hiding and to the ears of the people of Queens.
Dr. Tom Zlabinger an assistant professor of music at York College and the director of the York College Summer Jazz Program. "Jazz keeps to itself. Those of us who love and dare I say need it, know where to go," he said, "but like the Speakeasies of the past, you need to know a guy who knows a guy to get on the scene."
The Creative Jazz Organization is one of those hidden gems that few people know about. For the musicians that play at the American Legion Benjamin Moore Post 1946 hall, Wednesday signifies "Jazz night," a tradition the Creative Jazz Organization (CJO) has been keeping alive for over 35 years.
CJO's jazz nights originated at Carmichael's diner on Guy R. Brewer Boulevard before it closed down and has become a cheaper alternative to Manhattan's Jazz clubs.
Peter Dunn, 32, a computer programmer from Richmond Hill, Queens says many Queens residents don't stick around Queens, because they are not aware of the great musicians located in their own backyard. "This isn't any half rate show, these are professionals, you get the feel of paying $100, to see a show without having to pay $100."
The musicians begin to play at 8pm sharp, filling the room with smooth tempos and jumping beats. A crowd of listeners nod along, enchanted by a time when music was good and simple, where the instruments in a song were actually played by real live musicians and not by a producer pressing a button on a keyboard.
"There is nothing like a live performance. Jazz thrives on the moment. And though recordings are great to document the music, nothing is like that moment when things just lock, or explode, or melt," said Dr. Zlabinger. On this night Jazz comes alive at the American Legion Benjamin Moore Post 1946, at 204-03 Linden Blvd St. Albans, New York.
Despite its timelessness, Jazz sales are continuing to fall and has tied with classical music as the least-consumed music in the U.S., after children's music. Michael Smith, 50, from Cambria Heights, is making sure jazz lives on through the younger generation."I grew up listening to Jazz, I make sure my son gets his full dose of jazz when he rides in the car with me. He hates it, which is sad, he doesn't even know his music stems from Jazz. "
According to the latest Nielsen Music U.S. Report, jazz music equals just 1.4 percent of total sales of music consumed in the U.S. Jazz music equaled 3.0 percent of total sales in 1999, dropped to 1.8 in 2005, and in 2008 registered a mere 1.1 percent. In almost every year jazz sales continue to weaken.Although Jazz music is declining in album sales music downloads and streaming is making it easier to reach audiences.
Dr. Tom Zlabinger,assistant professor of music at York College doesn't see that as a bad thing, "I think streaming and downloads are supporting jazz! More people have access to it," he said.
When you think of jazz, you think of New Orleans, Chicago or Harlem. But Queens, New York, has long been a hometown for great Jazz Musicians and big band names. Ella Fitzgerald, Louis Armstrong and the big band leader Count Basie all lived in Queens, New York. The Landmarks Preservation Commission granted landmark status to Queen's neighborhood of Addisleigh Park where all these greats lived.
There are few but precious memorials in Saint Albans, Queens. The mural on the northern side of Linden Boulevard as it passes under the Long Island Railroad that pay homage to these greats
Wilhelmina Johnson, 56, a retired music teacher from Saint Albans Queens said "Where is jazz going to go when all these Hip Hop kids grow up? I pray it doesn't disappear but I don't think young folks appreciate Jazz like they should."
CJO is also promoting jazz in the community and getting young people involved with jazz music by offering "The Gwen Cleveland Scholarship Fund∫ to provide money grants to students interested in jazz musical education from various New York communities. The organization also runs music education events at Count Basie Middle School in Jamaica, Queens.
For the members of Creative Jazz Organization and others who look to not just preserve, but keep jazz thriving and present, this is but a small step on a long soulful road.
Valerie Coleman a member of the Creative Jazz Organization for six years said "I think organizations like this is what helps keep Jazz going and reachable to the Queens community."