Women's V-Ball Outlook Is Better This Year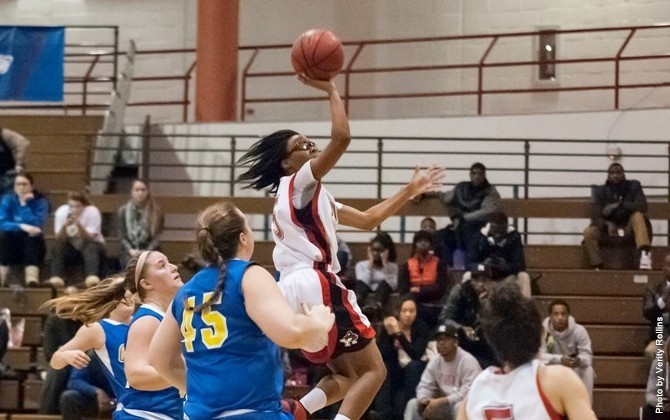 It's been awhile since the Women's Basketball team has whiffed an above .500 record. The last time they did dates back to the 2009-10 season where they had an overall record of 13-12. Since then, the team has yet to post a winning record. This season for the Lady Cardinal's moving forward could be something different, in a good way.
The team currently sits at a 6-11 record, which is more wins than they had since last seasons 3-23 record. Head Coach Winnifred Brown, who is in her ninth season deserves credit for the production she's been getting out of her players. Brown spoke about the difference in this year's team compared to last year.
"What's different about this team now compared to last year is that we have more ball handlers now," Brown said. "We didn't have that last year which caused teams to press us a lot." This season, they have about four ball handlers that can break open a press.
Senior Tamika Taylor has been averaging 18 points, 3.9 assists, and 8.6 rebounds. Junior Angelika Ruggiano has been improving every year since her debut in __. During her freshman year she scored 8 points per game. Since then her scoring total went up to 12.9 points this season. Junior Samantha Bond, who is a first year member of the team after transferring from Monroe College is having a solid season. She is scoring in double digits at 12 points a game. The team is working as a collective unit more so than ever. Brown gave her take on why it's happening now.
"I think when you add players that come from another school like some of the transfer students we brought in, it helps because the experience comes into play," said Brown.
With York's 6-11 record, they stand as a six seed in the CUNY Athletic Conference and have a 3-6 record against conference teams. Baruch, Brooklyn, Staten Island, and Lehman all stand as the top tier teams with above .500 winning records.
Assistant Coach Ronald James said he keeps his goals for the team short team and focused on their next move.
"Our team goal is to win the next game," said James. "I try not to look too far ahead. If we're able to lock up the four or five spot in the standings heading into the playoffs then I would consider that a fairly good season.
He emphasized the fact that although getting through the season is one thing, entering the playoffs is a whole new season where anything is bound to happen.
Despite the losing record, they have been surprisingly impressive at times. York's scoring total last season has increased from 50.3 to 59.4 points per game. The defense in particular has not been as inadequate as it should be throughout the season. Last year the team allowed their opponents to average 70 points per game. This year it's at 69.5. Although it's not much of a difference, it is a start. If this team wants to continue to propel themselves in taking the next step, then defense will do the trick.
"Our defense is getting better," Coach James said. "Last year it wasn't in our best interest to play straight up man to man whereas this year we have players that can handle that role for a period of time. We're able to mix the defense up where we can play man to man and zone which is coming along as you see this team get comfortable."
There's an old saying. "The best defense is a good offense". If anything defense is something that one can control more easily on the basketball court than offense. A player cannot always control how many shots are going to fall in a basket. But a play can certainly control the intensity, effort and execution on your basketball defense.
Junior Jigcara Grant who plays the center position spoke about where she feels this team is currently midway through the season.
"This is a strong group we have this year and I feel as if we work stronger on the things we need to do then we can reach our end goal," said Grant. "Each player on this team provides a unique talent and if we just come together as one then there is no doubt we can make it to the top." She mentioned that the team can improve on communication on the floor, but also mentioned when it comes down to crunch time they're able to finish big plays when needed.
If it's any team attempting to operate at a different scale it's this team right here. This team has hinted that they want to be competitive right now. Operating near in the middle of the Cuny Athletic Conference with six victories as this team nears the midway point of the season. The Cardinals are doing whatever they can prevent from happening often which is losing. Unfortunately, this strategy has yet to yield fruitful results thus far. This team can get better as the season goes, possibly moving up in the standings. They are a little better where they were expected to be in the standings.