York's Men's Basketball Team Challenges Themselves To Lead All of CUNY Colleges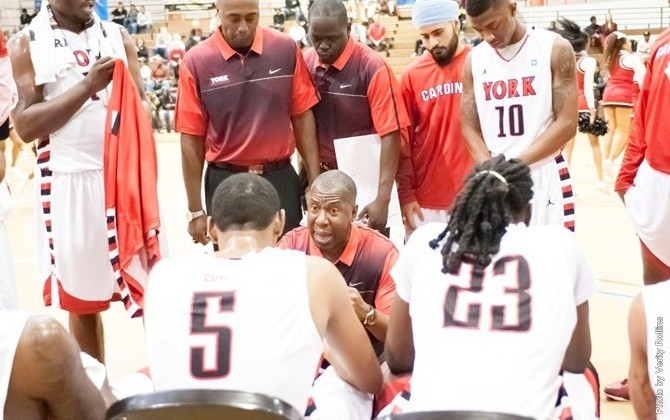 After three months of the men's basketball team going through plenty of non conference games, it's time to finally bring the band back together for when it really counts. Time to renew some rivalries and see what the Men's team is made of. 
Last November and December was all fun as the Men's team went 8-3 in during those pre-conference months. During the month of January however, the men's team found themselves in a funk losing five out of their seven games. They managed to break the streak when they beat Medgar Evers College 82-67 on Jan. 21. In the game, Senior Jaron Williams lead the team with 19 points, seven rebounds and five blocks. Seniors Omar St. John and Franklin Green chipped in 11 points each. The team had another solid win at home against City College winning 70-60 on Jan. 23.
Head Coach Ronald St. John spoke about his team persevering through this season despite their less than stellar start this month.
"We had some serious injuries that kind of hurt us, but we're trying to regroup now," said St John. "There were a few games we didn't do too well in, but these last couple of wins got us back on track and hopefully my guys are focused now."
He mentioned that he had to readjust his rotation and felt that things were starting to come together with the production he's seen so far. He's focused on what's ahead, hoping on winning the rest of the conference games putting York in a good position for the playoffs.
The team is with a 11-8 record seeking to find the same glow they had last season. Last season they posted a 22-8 record, going 13-3 in conference games and 9-5 in non-conference games. The Cardinal's ended the 2013-2014 season on a hot streak going 10-1 and ended up winning the 2014 Cuny Athletic Conference Men's Basketball Championship, upsetting the top-seeded College of Staten Island 87-84.
Assistant Coach Jessica Cherry gave her take on the trials and tribulations that this team has gone through.
"We've had some downs and it's been tough, we just have to stay the course especially after winning the championships last season," said Cherry. "We just need to focus on taking the process at one game at a time."
Cherry mentioned that winning the rest of these conference games coming up are crucial.
"We can't look over any games, as far as all the teams are concerned we are beatable and that's the reality of it," said Cherry.    "The guys have to buckle down and know what's at hand right now which is as simple as it gets."
After losing a big chunk of their offense in Michael Woods, who graduated after averaging 28.1 points last year, the team had to quickly readjust as any team would once that kind of production goes missing. St. John has drawn some quality work out of many players and the team has survived because of it. Omar St. John at guard is averaging 17.9 points a game and Jaron Williams also at guard is giving the team 12 points and 10 rebounds. Combined with forward Senior Cyril Reid, putting up 10 points, it gives the team some options on the court. They might of taken a big hit, but they have not collapsed.
"The dynamic of how we are trying to accomplish our goals this season is different from last season," Cherry said. "This season is clearly not like the last. Some of the guys think the dynamic is suppose to be the same and it's not because personalities are different when old players leave and new face come."
It'll be interesting to see whether Coach St. John and the rest of the staff behind him can get this team back on track throughout the rest of the season. With a great cast of players on the team and a stellar head coach in St. John, they can do some damage when in a groove. First thing's first is to get where they were last season, possibly even better. They have to win the rest of their games in conference play so they can make it there.
Coach Cherry believes this team can goes as far as a championship.
"For the most part they believe it, but they all have to believe it," said Cherry.
She does not doubt that they believe it, she just wants them to show it on the floor with their intensity and effort.